Seagate Exos X Enterprise

The Best Internal Drives for Data Centers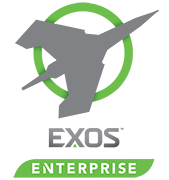 The Seagate Exos™ X class of enterprise hard drives are designed for hyperscale efficiency and ever-evolving security mandates. You can rely on Exos X for maximum capacity/density, scalability, power efficiency and security. Plus Exos X utilizes the latest nanoscale technology to further deliver foundational capabilities for the rapidly-evolving cloud and large-scale data center architectures.
Innovative technology advancements like helium, PowerBalance™, PowerChoice™, Seagate Secure™ and Seagate RAID Rebuild provide improved TCO.
Best-Fit Applications:
Hyperscale applications/cloud data centers
Massive scale-out data centers
High-capacity density RAID storage
Mainstream enterprise external storage arrays
Distributed file systems, including Hadoop and Ceph
Enterprise backup and restore— D2D, virtual tape
Centralized surveillance
Exos X10
The Seagate Exos™ X10 hard drive includes 10TB and 8TB secure, high-capacity, high-performance enterprise hard drives optimized for demanding hyperscale applications for maximum TCO savings.
Stores up to 9PB in a single 42U rack with helium technology
Advanced Write Caching provides a 20% performance boost*
Perfect for OLTP and HPC applications
Hyperscale SATA model tuned for large data transfers
Proven reliability backed by 2.5M-hr MTBF
Lowest 10TB power consumption
Up to 6% savings per rack per year
Exos X16
Seagate manufactures hard drives that specifically address the needs of the hyperscale storage market. As the flagship of the Seagate X class, the Exos X16 enterprise hard drives are the highest-capacity hard drives in the fleet.
Stores up to 12.8PB in a 42U rack with helium technology
Leading sustained data rate 261MB/s
Random write of 440 IOP/s
Reduced complexity with FastFormat™
Reduced TCO with low weight of 670g and 0.31 W/TB
550TB/yr—10× the workload rating of desktop drives
Seagate Secure encryption technology
Exos X18
Designed for maximum storage capacity and the highest rack-space efficiency, delivering up to 18TB capacity.
Exos 2X14
The first 14TB hyperscale hard drive featuring multi-actuator technology for up to 2X faster IOPS, reduced latency, and lowered TCO.