Seagate Exos 15E900 2.5-Inch Internal 512n SAS Enterprise Hard Drive

Perfect for mission-critical server storage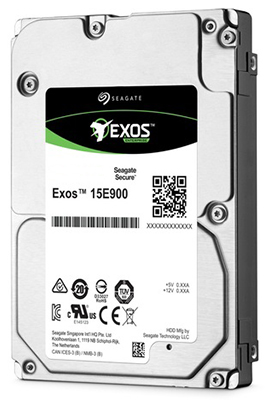 Seagate Products
Seagate Exos 15E900 2.5-Inch Enterprise Hard Drives - 512n SAS
Seagate Exos 15E900 2.5-Inch Internal 512n SAS Enterprise Hard Drive - 300 GB
#ST300MP0006
Get a Quote!
Seagate Exos 15E900 2.5-Inch Internal 512n SAS Enterprise Hard Drive - 600 GB
#ST600MP0006
Get a Quote!
Seagate Exos 15E900 2.5-Inch Internal 512n SAS Enterprise Hard Drive - 900 GB
#ST900MP0006
Get a Quote!
Overview:
Trusted. Efficient. Versatile.
For everything Enterprise storage, there's Exos E—the safest and most powerful way to traverse the datasphere and harness its full potential. Always on and always working, the Exos E series of hard drives is loaded with advanced options for optimal performance, reliability, security and user-definable storage management. Built on generations of industry-defining innovation, Exos E is designed to work and perform consistently in enterprise-class workloads.
The Datasphere's Only 2.5-Inch Nearline Hard Drive
The Seagate Exos™ 15E900 enterprise hard drive is the world's fastest hard drive, with capacities up to 900GB in a 2.5-inch form factor, and is intended for traditional data centers where density, power consumption and data integrity are paramount.
Seagate Exos™ 15E900 series delivers faster time-to-data and is intended for use in data centers where density, power consumption and data integrity are paramount especially during peak demand workloads.*
Up to 100% faster random write performance** with Enhanced Caching that accelerates OLTP, VDI, web server and database applications.
Simplify data center integration with Fast Format™ models which can be addressed as 512 emulation and re-serviced to 4K native formats.
Seagate Secure™ capabilities ensure authentic and trusted products from a secure supply chain, available with hardware-based encryption (SED), Instant Secure Erase (ISE), TAA compliance and FIPS 140-2
Best-Fit Applications
High-performance, mission-critical enterprise servers requiring 24×7 availability
Highly reliable blade, pedestal, rack and tower servers
Transaction-based applications, like OLTP, databases, HPC and Big Data analytics
Power- and space-constrained data centers
Compliance and data security initiatives
* Formerly Enterprise Performance 15K HDD
** Compared to previous generation of hard drive
Features:
Performance You Need With the Affordability You Demand
Exos 15E900 hard drives accelerate I/O operations and complete more transactions faster—even during peak demand. The 900GB model Exos 15E900 was the first to store 50% more mission-critical data than any other 15K hard drive. 1 By providing higher capacities at lower cost than high-performance alternatives, Exos 15E900 drives help optimize TCO. They deliver more predictable performance (up to 27% more sustained data rate than previous generation 1 ) while helping to protect data from corruption due to unexpected power loss.
Unrivaled Versatility Is Key
The Exos 15E900 supports all drive formats, including 512 native and a single Fast Format TM model for advanced formats (4Kn and 512e) that simplifies drive management. Industry-leading read caching with TurboBoost technology for optimum response times is perfect for OLTP applications. The Advanced Write Caching feature utilizes enhanced algorithms for the industry's highest mission-critical storage workload performance efficiencies. The Exos 15E900 uses traditional NAND and advanced algorithms to promote hot data and meet performance requirements (up to 2.6× improvements over last generation1). By enabling high density with power efficiency, Exos 15E900 drives are ideal for space- and power-constrained enterprise data centers. Widely accepted, proven sixth-generation technology provides reliable access to demanding high-performance applications.


Industry-Leading Data Security Features
Seagate Secure TM models provide hardware-based security to help protect data-atrest. With Instant Secure Erase, drive retirement is safe, fast and cost-efficient. Seagate Secure models meet the NIST 800-88 media sanitization specification and support the Trusted Computer Group (TCG) standard.2
1 Compared to previous generation 600GB version
2 Seagate Secure models not available in all countries. May require TCG-compliant host or controller support.
Specifications:
Specifications - 512 Native SAS
900GB
600GB
300GB
Standard Model1
ST900MP0006
ST600MP0006
ST300MP0006
Seagate Secure™ Model (SED)1,2
ST900MP0016
ST600MP0016
ST300MP0016
Seagate Secure FIPS 140-2/Common Criteria Model1,2,3
ST900MP0126
ST600MP0026
—
Performance
Average Latency (ms)
2.0
2.0
2.0
Sustained Transfer Rate (Outer to Inner Diameter, MB/s)
300 to 210
300 to 210
300 to 210
Mixed Workload Performance (at 5ms)
405
425
445
Max. Instantaneous Transfer Rate (SAS dual port) MB/s
2400
2400
2400
Cache, Multisegmented (MB)
256
256
256
Interface
12 Gb/s SAS
12 Gb/s SAS
12 Gb/s SAS
Intelligent NAND Endurance Management
No
No
No
Features
Fast-Format Models
No
No
No
TurboBoost Enhanced Read Caching
No
No
No
Advanced Write Caching
Yes
Yes
Yes
Low Halogen
Yes
Yes
Yes
PowerChoice™ Idle Power Technology
Yes
Yes
Yes
Hot Plug Support
Yes
Yes
Yes
Organic Solderability Preservative
Yes
Yes
Yes
Digital Sensors for Humidity
Yes
Yes
Yes
Configuration / Reliability
Disks/Heads
3/6
2/4
1/2
Nonrecoverable Read Errors per Bits Read, Max
1 per 10E16
1 per 10E16
1 per 10E16
Annualized Failure Rate (AFR)
0.44%
0.44%
0.44%
Limited Warranty (years)4
5
5
5
Power Management
Typical Op (A) +5V/+12V
7.60
7.20
6.90
Average Idle Power (W)
5.70
5.80
4.70
Average Operating Power (W)
7.60W
7.20W
6.90W
Environmental/Temperature
Ambient Temperature, Operating (C°)
5°C – 55°C
5°C – 55°C
5°C – 55°C
Ambient Temperature, Nonoperating (C°)
-40°C – 70°C
-40°C – 70°C
-40°C – 70°C
Temperature Change Rate/Hr, Max (°C)
20
20
20
Relative Humidity, Noncondensing (max gradient 20%/hour)
5% – 95%
5% – 95%
5% – 95%
Shock, Max. Operating: 11ms (Gs)
40
40
40
Shock, Max. Nonoperating: 2ms (Gs)
400
400
400
Vibration, Operating: <400Hz (Gs)
0.5
0.5
0.5
Vibration, Nonoperating: <500Hz (Gs)
2.4
2.4
2.4
Physical
Height (mm/in, max)5
15.00mm/0.591in
15.00mm/0.591in
15.00mm/0.591in
Width (mm/in, max)5
69.85mm/2.750in
69.85mm/2.750in
69.85mm/2.750in
Depth (mm/in, max)5
100.45mm/3.955in
100.45mm/3.955in
100.45mm/3.955in
Weight (g/lb)
230g/0.507lb
230g/0.507lb
225g/0.496lb
Carton Unit Quantity
40
40
40
Cartons per Pallet/Cartons per Layer
60 / 10
60 / 10
60 / 10
1 512 Emulation and 4K Native models will provide a higher level of performance in 4K-aligned systems. 4Kn/512e drives ship in 512 emulation mode but can be reformatted to 4Kn with Fast Format feature.
2 Seagate Secure Drives (SED) and FIPS 140-2 Validated drives are not available in all models or countries. May require TCG-Compliant host or controller support. In addition, some models