Seagate IronWolf 3.5-Inch Internal NAS Hard Drive

Perfect for home, SOHO and small business NAS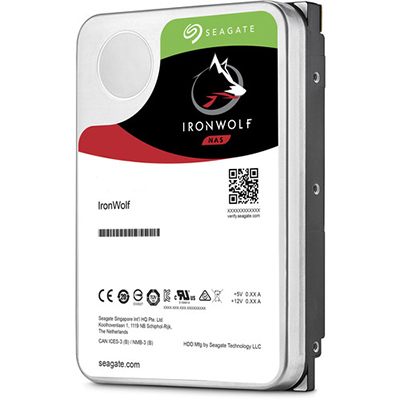 Seagate Products
Seagate IronWolf 3.5-Inch Internal NAS Hard Drives
Seagate IronWolf 3.5-Inch Internal NAS Hard Drive - 1 TB
#ST1000VN002
Get a Quote!
Seagate IronWolf 3.5-Inch Internal NAS Hard Drive - 2 TB
#ST2000VN004
Get a Quote!
Seagate IronWolf 3.5-Inch Internal NAS Hard Drive - 3 TB
#ST3000VN007
Get a Quote!
Seagate IronWolf 3.5-Inch Internal NAS Hard Drive - 4 TB
#ST4000VN008
Get a Quote!
Seagate IronWolf 3.5-Inch Internal NAS Hard Drive - 6 TB
#ST6000VN001
Get a Quote!
Seagate IronWolf 3.5-Inch Internal NAS Hard Drive - 10 TB
#ST10000VN000
Get a Quote!
Seagate IronWolf 3.5-Inch Internal NAS Hard Drive - 10 TB
#ST10000VN0008
Get a Quote!
Seagate IronWolf 3.5-Inch Internal NAS Hard Drive - 12 TB
#ST12000VN0008
Get a Quote!
Seagate IronWolf 3.5-Inch Internal NAS Hard Drive - 14 TB
#ST14000VN0008
Get a Quote!
Seagate IronWolf 3.5-Inch Internal NAS Hard Drive - 16 TB
#ST16000VN001
Get a Quote!
Seagate IronWolf 3.5-Inch Internal NAS Hard Drive - 18 TB
#ST18000VN000
Get a Quote!
Overview:
The Power of Agility for Home, SOHO, and SMB NAS Enclosures
IronWolf is designed for everything NAS. Get used to tough, ready, and scalable 24×7 performance that can handle multi-drive environments across a wide range of capacities.
Key Advantages
Optimized for NAS with AgileArray.™ AgileArray enables dual-plane balancing and RAID optimization in multi-bay environments, with the most advanced power management possible.
Actively protect your NAS with IronWolf Health Management focusing on prevention, intervention, and recovery.1
High performance means no lag time or downtime for users during workload traffic for the NAS. Seagate leads the competition with the highest-performing NAS drive portfolio.2
Rotational Vibration (RV) sensors. First in its class of drives to include RV sensors to maintain high performance in multi-drive NAS enclosures.3
Range of capacities up to 16TB. More capacity options means more choices that will fit within the budget. Seagate provides a scalable solution for any NAS use-case scenario.
Do more in multi-user environments. IronWolf provides a workload rate of 180TB/year. Multiple users can confidently upload and download data to the NAS server, knowing IronWolf can handle the workload, whether you are a creative professional or a small business.
Designed for always-on, always-accessible 24×7 performance. Access data on your NAS any time, remotely or on site.
1M hours MTBF, 3-year limited warranty represents an improved total cost of ownership (TCO) over desktop drives with reduced maintenance costs.
Best-Fit Applications
1- to 8-bay network attached storage (NAS)
Desktop RAID and servers
Multimedia server storage
Private cloud
1 Contact your Seagate sales representative for further information.
2 Performance may vary depending on user's hardware configuration and operating system.
3 Included on 4, 6, 8, 10, 12, 14, and 16TB models.
Features:
Be Tough. Be Ready.
For everything NAS, there's IronWolf and IronWolf Pro—always on, always working.
Built for multi-user environments and high workload rates, these NAS hard drives are enhanced with AgileArray™ technology for optimal reliability and system scalability.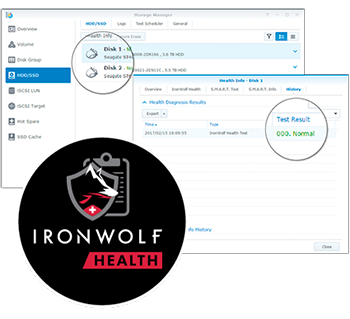 Drive Health
Manage Drive Health
ronWolf Health Management (IHM) improves overall system reliability by displaying actionable prevention, intervention, and recovery options. When IronWolf or IronWolf Pro hard drives are integrated into compatible NAS systems, the overall system reliability increases due to constant monitoring and user alerts.1,2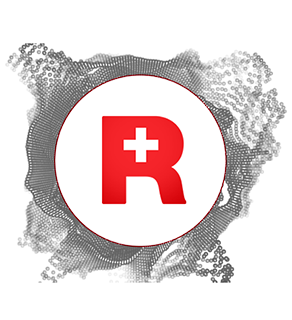 Data Recovery
Protect Your Drive
When you purchase and register an IronWolf Pro drive, a Rescue Recovery Data Plan is included for 2 years.3 You'll have access to a global team of world-class data recovery experts in case of unexpected data loss.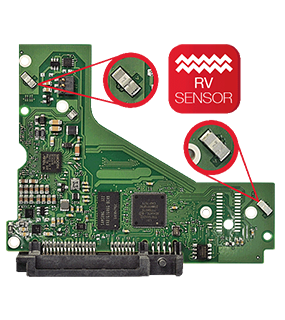 File Sharing and RV Sensors
Built to Maintain Performance
Multiple users can confidently upload and download data on a NAS system populated with IronWolf hard drives.
IronWolf hard drives 4TB and higher are equipped with RV sensors to maintain performance in multi-bay NAS enclosures. IronWolf Pro drives come standard with RV sensors built in for higher bay NAS.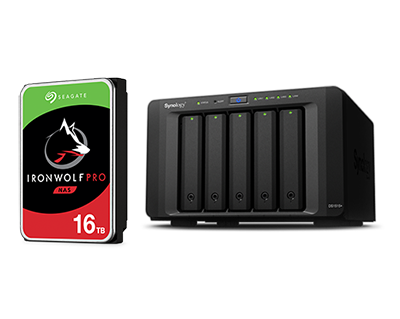 IronWolf has your back with multi-bay NAS environments
Support Your Business
IronWolf can handle the vibrations and high workload rates of a high-data network within a multi-bay NAS environment.
1 IronWolf Health features subject to change. Available on 4TB and higher IronWolf drives.
2 NAS vendors may vary in compatibility with IronWolf Health Management. Contact your Seagate sales representative for further details.
3 Rescue recovery plan are not available in all countries. Please contact your Seagate sales representative for further details.
Multi-Tier Caching Technology:
How Layering an Application's Cache Improves Performance
Modern data storage needs go far beyond just computing. From creative professional environments to desktop systems, Seagate provides solutions for almost any application that requires large volumes of storage. As a leader in NAND, hybrid, SMR and conventional magnetic recording technologies, Seagate applies different levels of caching and media optimization to benefit performance and capacity. Multi-Tier Caching (MTC) Technology brings the highest performance and areal density to a multitude of applications. Each Seagate product is uniquely tailored to meet the performance requirements of a specific use case with the right memory, NAND, and media type and size. This paper explains how MTC Technology works to optimize hard drive performance.
MTC Technology: Key Advantages
Capacity requirements can vary greatly from business to business. While the fastest performance can be achieved using Dynamic Random Access Memory (DRAM) cache, the data in the DRAM is not persistent through power cycles and DRAM is very expensive compared to other media. NAND flash data survives through power cycles but it is still very expensive compared to a magnetic storage medium. Magnetic storage media cache offers good performance at a very low cost. On the downside, media cache takes away overall disk drive capacity from PMR or SMR main store media.
MTC Technology solves this dilemma by using these diverse media components in combination to offer different levels of performance and capacity at varying price points. By carefully tuning firmware with appropriate cache types and sizes, the end user can experience excellent overall system performance. Since the disk drive on-board controller manages the data flow, the operating system and application work seamlessly in executing read/write operations.
MTC Technology is the performance solution for the best daily end user experience.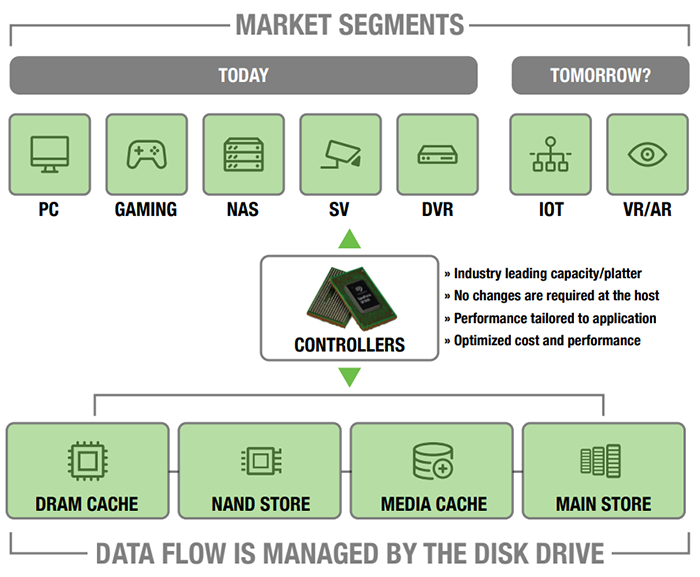 Single-Tier vs. Multi-Tier Caching
Traditional disk drives use single-tier cache to speed up data flow from the host to the magnetic media main store—also known as permanent storage. In this scheme, shown in Figure 2, DRAM serves many purposes. A small DRAM buffers randomly written data and reorders them before writing to the main store. Reducing the number of seeks during a write improves random write performance significantly. During sequential write operations, such as streaming, DRAM helps to minimize fragmented writes by merging writes to disk. DRAM also serves as a read look-ahead cache, which can help certain random read operations. However, due to the limited size of the DRAM, the benefit of the read look-ahead cache is limited.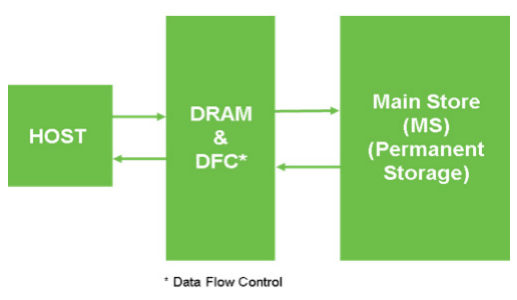 Figure 2. Traditional HDD Caching Data Flow
MTC technology adds various caching layers to further improve both read and write performances. Depending on Seagate's implementation, some or all of the caching tiers can be utilized for a specific product. In data shown in Figure 3, NAND flash and Media cache layers are added to provide additional performance boost. In this example, NAND flash is used to store most-often-read data to increase read performance while media cache is used to merge small block writes. Since the NAND flash size is in the order of gigabytes compared to the hundreds of megabytes found on DRAM, cache hit is higher by order of 100 times. For fragmented write operations, media cache boosts performance as DRAM reaches its limit. Media cache can sustain a near-sequential data rate of up to scores of gigabytes to better handle burst workloads. All user data are protected and moved in and out of the main store storage without host intervention, making the MTC Technology completely transparent to the user.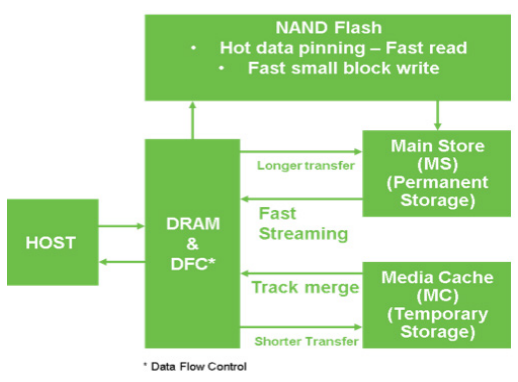 Figure 3. MTC Technology HDD Caching Data Flow
MTC Technology: Understanding the Layers of Performance and Capacity
As each layer of caching has an associated cost per storage unit, it is important to understand the performance metric of each component as well as the practical capacity provided by each component. Figure 4 shows the approximate buffering/storage capacity, performance metric as well as unique performance characteristics of each component. Combination of these components and firmware implementation are used to optimize the performance and capacity requirements for a given application.


Figure 4. Capacity + Performance + Unique Characteristics + Firmware = High-Functioning Storage
Terms and Definitions
MTC Technology (Multi-Tier Caching Technology) – Seagate's trademarked caching scheme which utilizes multiple memory schemes and firmware to optimize data flow to enhance both read and write performance.
PMR – Perpendicular magnetic recording
SMR – Shingled magnetic recording
MC (Media Cache) – A temporary non-user addressable storage on magnetic media used to buffer incoming or outgoing data.
MS (Main Store) – A permanent user addressable storage on magnetic storage. Data can be either storage on PMR or SMR media.
DRAM (Dynamic Random Access Memory) – Volatile memory used to temporarily store data for computing purpose.
NAND Flash – Non-volatile solid state memory used to store bulk data.
MTC Technology Media Cache & Main Store Usage Cases
The usage of media cache and main store based on each application is illustrated in Table 1. Each application has typical data storage usage noted by file size and its inherent workload characteristics by sequential write, sequential read, random write and random read. These file sizes and workload characteristics drive cache size and type requirements. For example, compute environment deals with small files that are written and read randomly on the HDD. This workload is characterized by high likelihood of random write and random read. Media cache and other caching usages can be high, while the main store data storage requirement is fairly low. By contrast, single-drive surveillance applications deal with large files that are highly sequential read and write. This workload doesn't require much media cache to boost performance. It does, however, require lots of main store data storage capacity.

Conclusion
Seagate is committed to delivering storage solutions with the highest performance and capacity available. Unique to the Seagate brand, MTC Technology breaks barriers by leveraging media cache, NAND and DRAM in a variety of hard drives for high-performance workloads. BarraCuda Pro, the essential HDD for creative professionals and high-performance desktops, is an excellent example of a drive that hits a high sequential data rate thanks to MTC Technology. Due to the adaptability and affordability of a MTC Technology approach, individuals and small and medium businesses alike can hone in on the full capabilities of their storage drive—ultimately leading to faster and more efficient workflows.
IronWolf Health: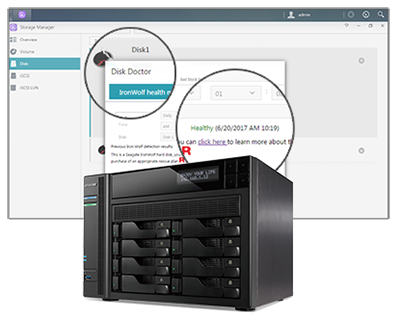 Keep Your Data In Good Shape
For all around well-being, you need prevention, intervention, and recovery.
IronWolf Health Management provides all these aspects of care for supported IronWolf and IronWolf Pro hard drives. Thanks to IHM, which operates in popular NAS operating systems, you can prevent external disturbances from affecting the NAS or drive health, proactively intervene and backup your data when the system notifies, and available industry leading rescue and recovery services should a catastrophic event occur.
Actively Protecting Your NAS
IronWolf Health Management (IHM) is designed to operate on enabled NAS systems, populated with supported Ironwolf SSD, Ironwolf HDDs, and Ironwolf Pro HDDs. IHM helps to improve the overall system reliability by showing prevention, intervention, and recovery options.

Prevention
Enjoy seamless, superior NAS experience as IronWolf Health monitors your system environment and offers preventative actions to secure your data. It keeps tabs on conditions such as temperature, shock, vibration, intermittent connections and signal integrity.

Intervention
Avoid catastrophic data loss events by allowing IronWolf Health to analyze hundreds of parameters, recommending backup as needed. IHM has adaptive algorithms that monitor critical drive and health parameters related to data transfer, performance, readability, writability and overall reliability.

Recovery
In the event of failure, rely on our Rescue Data Recovery Service (2-year service included with IronWolf Pro). IHM provides you easy access to it through the NAS OS.
Schedule. Review. Track.1
IHM is integrated within the NAS OS in which it allows you to schedule and review each result of the scan when you want to. The NAS OS will keep a log in which it will help track any trends and keep you well aware of how healthy your drive is based on the results of IHM.
Keep an Eye on Your Workload2
IronWolf Health Management allows you to keep an eye on your workload on compatible NAS. With workload charting you are able to see the data traffic with your NAS on a day by day basis, allowing further piece of mind knowing that IronWolf and IronWolf Pro is built tough to handle 24x7 always on use.
Error Codes and Suggestions
IronWolf Health provides a list of error codes and a suggestion on what you need to do to fix the issues. The chart below helps provides suggestions for each code.
| Output Code | Test Result | Suggested Actions to Fix the Issue |
| --- | --- | --- |
| 100 | Notification | Abnormally high operating temperature has been detected. Please ensure rear ventilation ports are not blocked, and try to lower the ambient temperature. |
| 101 | Notification | Connection issue on your NAS and hard drive interface has been detected. Please make sure the hard drive is properly installed in the chassis or drive tray, and that the tray is properly installed in your NAS. If issue persists, please contact the NAS Support Team. |
| 102 | Notification | Excessive physical shock to the hard drive has been detected. Please ensure your hard drive and NAS are placed on a stable surface. If issue persists, please contact the NAS Support Team. |
| 105 | Notification | Excessive vibration has been detected. Please ensure your NAS is placed on a stable surface. If issue persists, please contact the NAS Support Team. |
| 106 | Notification | Excessive host resets have been detected. Please ensure the hard drive is properly installed in the chassis or drive tray, and perform a power cycle. If issue persists, please contact the NAS Support Team. |
| >=200 | Warning | IHM has spotted some errors and a full SMART scan has been automatically triggered for your convenience. If the scan fails, please contact Seagate Customer Care. |
1 IronWolf Health Management features may vary from one NAS vendor to another. For further information, please refer to the vendor IHM manual
2 Workload charting is only available on compatible NAS. Please check NAS vendor for further details.
Specifications:
Specifications
18TB
16TB
14TB
12TB
10TB
Standard Model Number
ST18000VN000
ST16000VN001
ST14000VN0008
ST12000VN0008
ST10000VN0008
Interface
SATA 6Gb/s
SATA 6Gb/s
SATA 6Gb/s
SATA 6Gb/s
SATA 6Gb/s
Features and Performance
Drive Bays Supported
1-8 Bays
1-8 Bays
1-8 Bays
1-8 Bays
1-8 Bays
Recording Technology
CMR
CMR
CMR
CMR
CMR
Drive Design (Air or Helium)
Helium
Helium
Helium
Helium
Helium
Workload Rate Limit (WRL)
180
180
180
180
180
Rotational Vibration (RV) Sensor
Yes
Yes
Yes
Yes
Yes
Dual-Plane Balance
Yes
Yes
Yes
Yes
Yes
Error Recovery Control
Yes
Yes
Yes
Yes
Yes
Max. Sustained Transfer Rate OD (MB/s)
240MB/s
240MB/s
240MB/s
210MB/s
210MB/s
Spindle Speed (RPM)
7200
7200
7200
7200
7200
Cache (MB)
256
256
256
256
256
Reliability
Load/Unload Cycles1
600,000
600,000
600,000
600,000
600,000
Nonrecoverable Read Errors Rate, Max
1 per 10E15
1 per 10E15
1 per 10E15
1 per 10E15
1 per 10E15
Power-On Hours
8760
8760
8760
8760
8760
Mean Time Between Failures (MTBF, hours)
1,000,000
1,000,000
1,000,000
1,000,000
1,000,000
Rescue Data Recovery Services (years)4
3
3
3
3
3
Limited Warranty (years)
3
3
3
3
3
Power Management
Startup Current, Typical (12V, A)
1.8
1.8
1.8
1.8
1.8
Average Operating Power (W)
7.3W
7.3W
7.3W
7.3W
7.8W
Idle Average (W)
5.5W
5.1W
5.1W
5.1W
5.0W
Standby Mode/Sleep Mode, Typical (W)
1.0/1.0
1.28/1.28
1.17/1.17
1.17/1.17
1.17/1.17
Voltage Tolerance, Inc. Noise (5V)
1.0
±5%
±5%
±5%
±5%
Voltage Tolerance, Inc. Noise (12V)
±10%
±10%
±10%
±10%
±10%
Environmental/Temperature
Operating Temperature (ambient, min °C)
0°C
0°C
0°C
0°C
0°C
Operating Temperature (drive reported, max °C)5
65°C
65°C
65°C
65°C
65°C
Nonoperating Temperature (ambient, min °C / max °C)
–40 / 70°C
–40 / 70°C
–40 / 70°C
–40 / 70°C
–40 / 70°C
Environmental/Shock
Shock, Operating/Nonoperating: 2ms (max)
40Gs/200Gs
50Gs/200Gs
50Gs/200Gs
50Gs/200Gs
70Gs/250Gs
Environmental/Acoustics
Acoustics, Idle (typical, measured in Idle 1 state) (dBA)
28
28
28
28
28
Acoustics, Seek (typical) (dBA)
30
30
30
30
30
Physical
Height (mm/in)
26.11mm/1.028in
26.11mm/1.028in
26.11mm/1.028in
26.11mm/1.028in
26.11mm/1.028in
Width (mm/in, max)
101.85mm/4.01in
101.85mm/4.01in
101.85mm/4.01in
101.85mm/4.01in
101.85mm/4.01in
Depth (mm/in, max)
146.99mm/5.787in
146.99mm/5.787in
146.99mm/5.787in
146.99mm/5.787in
146.99mm/5.787in
Weight (g/lb, typical)
670g/1.477lb
670g/1.477lb
650g/1.433lb
650g/1.433lb
690g/1.521lb
Carton Unit Quantity
20
20
20
20
20
Cartons per Pallet/Cartons per Layer
40 / 8
40 / 8
40 / 8
40 / 8
40 / 8
Specifications
8TB
6TB
4TB
3TB
2TB
Standard Model Number
ST8000VN004
ST6000VN001
ST4000VN008
ST3000VN007
ST2000VN004
Interface
SATA 6Gb/s
SATA 6Gb/s
SATA 6Gb/s
SATA 6Gb/s
SATA 6Gb/s
Features and Performance
Drive Bays Supported
1-8 Bays
1-8 Bays
1-8 Bays
1-8 Bays
1-8 Bays
Recording Technology
CMR
CMR
CMR
CMR
CMR
Drive Design (Air or Helium)
Air
Air
Air
Air
Air
Workload Rate Limit (WRL)
180
180
180
180
180
Rotational Vibration (RV) Sensor
Yes
Yes
Yes
No
No
Dual-Plane Balance
Yes
Yes
Yes
Yes
Yes
Error Recovery Control
Yes
Yes
Yes
Yes
Yes
Max. Sustained Transfer Rate OD (MB/s)
210MB/s
190MB/s
180MB/s
180MB/s
180MB/s
Spindle Speed (RPM)
7200
5400
5400
5900
5900
Cache (MB)
256
256
256
64
64
Reliability
Load/Unload Cycles1
600,000
600,000
600,000
600,000
600,000
Nonrecoverable Read Errors Rate, Max
1 per 10E15
1 per 10E14
1 per 10E14
1 per 10E14
1 per 10E14
Power-On Hours
8760
8760
8760
8760
8760
Mean Time Between Failures (MTBF, hours)
1,000,000
1,000,000
1,000,000
1,000,000
1,000,000
Rescue Data Recovery Services (years)4
3
3
3
3
3
Limited Warranty (years)
3
3
3
3
3
Power Management
Startup Current, Typical (12V, A)
1.8
1.8
2.0
1.8
1.8
Average Operating Power (W)
10.1W
5.3W
4.8W
4.3W
4.3W
Idle Average (W)
7.2W
3.4W
3.95W
4.8W
3.56W
Standby Mode/Sleep Mode, Typical (W)
1.0/1.0
0.25/0.25
0.5/0.5
0.5/0.5
0.5/0.5
Voltage Tolerance, Inc. Noise (5V)
±5%
±5%
±5%
±5%
±5%
Voltage Tolerance, Inc. Noise (12V)
±10%
±10%
±10%
±10%
±10%
Environmental/Temperature
Operating Temperature (ambient, min °C)
0°C
0°C
0°C
0°C
0°C
Operating Temperature (drive reported, max °C)5
65°C
65°C
65°C
65°C
65°C
Nonoperating Temperature (ambient, min °C / max °C)
–40 / 70°C
–40 / 70°C
–40 / 70°C
–40 / 70°C
–40 / 70°C
Environmental/Shock
Shock, Operating/Nonoperating: 2ms (max)
70Gs/250Gs
70Gs/300Gs
70Gs/250Gs
80Gs/300Gs
80Gs/300Gs
Environmental/Acoustics
Acoustics, Idle (typical, measured in Idle 1 state) (dBA)
28
26
23
23
19
Acoustics, Seek (typical) (dBA)
32
27
25
25
21
Physical
Height (mm/in)
26.11mm/1.028in
26.11mm/1.028in
26.11mm/1.028in
26.11mm/1.028in
20.20mm/0.795in
Width (mm/in, max)
101.85mm/4.01in
101.85mm/4.01in
101.85mm/4.01in
101.85mm/4.01in
101.85mm/4.01in
Depth (mm/in, max)
146.99mm/5.787in
146.99mm/5.787in
146.99mm/5.787in
146.99mm/5.787in
146.99mm/5.787in
Weight (g/lb, typical)
720g/1.59lb
610g/1.345lb
610g/1.345lb
610g/1.345lb
535g/1.18lb
Carton Unit Quantity
20
20
20
20
20
Cartons per Pallet/Cartons per Layer
40 / 8
40 / 8
40 / 8
40 / 8
40 / 8
1 Load/unload tested to 600,000 cycles.
2 Seagate does not recommend operating at sustained case temperatures above 60°C. Operating at higher temperatures will reduce useful life of the product.
3 Idle measured in Idle 1 state.
4 Rescue services are not available in all countries. Contact your Seagate sales representative for more info.
5 It is not recommended to operate at sustained drive temperatures above 60°C. Higher temperatures may affect drive health
Views:
---
---
---
---
14TB - 18TB Hard Drive