Seagate FireCuda 520 M.2 NVMe Solid State Drives (SSD)

Accelerate. Dominate. Endure.

Seagate Products
Seagate FireCuda 520 M.2 NVMe SSD
Seagate FireCuda 520 M.2 NVMe SSD - 500 GB
#ZP500GM3A002
Get a Quote!
Seagate FireCuda 520 M.2 NVMe SSD - 1 TB
#ZP1000GM3A002
Get a Quote!
Seagate FireCuda 520 M.2 NVMe SSD - 2 TB
#ZP2000GM3A002
Get a Quote!
Overview:
Dominate With Ferocious Speed
Seagate® FireCuda® 520 SSD with PCIe® Gen4 ×4 interface is our fastest solid state drive—nearly 45% faster sequential reads/writes than the previous generation. It provides plug-and-play compatibility with all PCIe 4.0 motherboards, and delivers an extreme boost in performance with the latest 3D TLC NAND technology. Upgrading to the FireCuda 520 unlocks Gen4 speed and supplies up to 9× faster sequential reads than SATA SSDs.
Key Advantages
Leverage sequential read/write performance up to 5000/4400MB/s, and random read/write up to 760K/700K IOPS.
Take advantage of up to 45% more speed than Gen3 M.2 NVMe™ and up to 9× faster sequential reads than SATA SSDs.
Utilize an E16 controller that is fully aligned with AMD X570 chipset motherboards and able to reach up to 5GB/s reads/4.4GB/s writes.
Easily upgrade to a drive that's compatible with Gen4 motherboards and fully backwards compatible with all PCIe 3.0 platforms.
Enjoy the latest NAND technology, which provides the most advanced speed and durability for your dollar.
Choose from multiple capacities (up to 2TB), and store your gaming library on your boot drive.
Download the free SeaTools™ SSD software to take advantage of drive performance reporting, S.M.A.R.T. attributes, health monitoring, firmware updates, diagnostics, managing logs—and multiple gamer theme options.
Best-Fit Applications
High-performance PCs and workstations
Creative professional systems
Features:
Upgrade Your Gaming Experience.
FireCuda® SSD solutions are designed and built specifically with the needs of professional-level gamers in mind.
Go further with a gaming SSD built for industry-leading speed, sustained abuse, lowest latency, and superior gaming.

Unleash the speed of PCIe 4.0 x4 with FireCuda 520 PCIe Gen4 SSD, our newest M.2 NVMe SSD built for pro-level gaming and nearly 45% faster than previous generations.
This solid-state gaming drive is out-of-the-box compatible with the new X570 chipset and easily plugs directly into any PCIe Gen4 motherboard for a compact performance boost to your PC build.
The Most Competitive Edge
NAND Acceleration
Upgrade to PCIe Gen4 x4 on next-gen 3D TLC NAND in a M.2 2280 NVMe form factor, and sequential read/write up to 5000/4400 MB/s.
Leading Performance
Dominate with a plug-and-play gaming storage boost that is backwards compatible with PCIe 3.0 platforms and AMD X570 chipset PCIe 4.0 motherboards.
Enviable Endurance
Take advantage of a 5-year limited warranty, 1.8M hours MTBF, and up to 3600TB TBW (Total Bytes Written).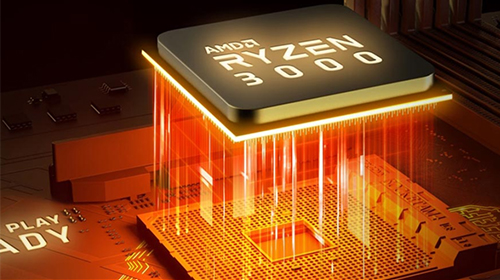 A Winning Duo
Our FireCuda 520 and FireCuda 510 solid-state drives are built to provide you with more cores, more cache, more tech, and more I/O. Both PC gaming drives are out-of-the-box compatible with the latest generation of powerful AMD Ryzen™ processors.
Pair a 3rd Gen AMD Ryzen Desktop Processor with the new FireCuda 520 to unlock true PCIe Gen4 speeds for the ultimate PC gaming builds.
Speed Up Your Creativity.
The speed and durability of these solid-state drives make them a great solution for creative professionals who need files processed faster.
Sequential read/write speeds can handle multiple video streams writing to the drives, and high IOPS ensure consistently smooth streaming.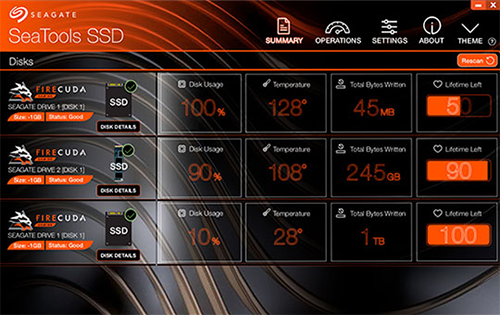 Benefit From SeaTools
SeaTools™ SSD is our free software that tests and analyzes hard drives. It is completely data safe and easily installs on your system.
Features include:
Drive health monitoring
Drive performance monitoring
Firmware and software updates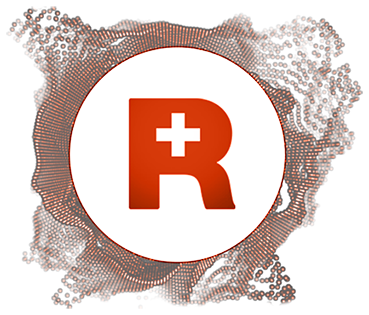 Insure Your Drive
A Rescue Data Recovery Services plan is available for purchase when you register your FireCuda drive.1 You'll have access to a global team of world-class data recovery experts in case of unexpected data loss.
1 Rescue Data Recovery Services plans are not available in all countries. Please contact your Seagate sales representative for further details.
Specifications:
Specifications
2TB
1TB
500GB
Standard Model (TCG Pyrite)
ZP2000GM30002
ZP1000GM30002
ZP500GM30002
Interface
PCIe G4 ×4, NVMe 1.3
PCIe G4 ×4, NVMe 1.3
PCIe G4 ×4, NVMe 1.3
NAND Flash Memory
3D TLC
3D TLC
3D TLC
Form Factor
M.2 2280-D2
M.2 2280-D2
M.2 2280-D2
Performance
Sequential Read (Max, MB/s), 128KB1
5000
5000
5000
Sequential Write (Max, MB/s), 128KB1
4400
4400
4400
Random Read (Max, IOPS), 4KB QD32 T81
750,000
760,000
430,000
Random Write (Max, IOPS), 4KB QD32 T81
700,000
700,000
630,000
Endurance/Reliability
Total Bytes Written (TB)
3600
1800
850
Mean Time Between Failures (MTBF, hours)
1,800,000
1,800,000
1,800,000
Limited Warranty (years)
5
5
5
Power Management
Active Power, Average (W)
6.0
5.6
4.6
Idle Power PS3, Average (mW)
25
15
12
Low Power L1.2 mode (mW)
2
2
2
Environmental/Temperature
Temperature, Operating Internal (°C)
0 to 70°C
0 to 70°C
0 to 70°C
Temperature, Nonoperating (°C)
–40 to 85°C
–40 to 85°C
–40 to 85°C
Shock, Nonoperating: 0.5ms (Gs)
1500
1500
1500
Physical
Length (mm/in, max)
80.15mm/3.156in
80.15mm/3.156in
80.15mm/3.156in
Width (mm/in, max)
22.15mm/0.872in
22.15mm/0.872in
22.15mm/0.872in
Height (mm/in, max)
3.58mm/0.140in
3.58mm/0.140in
3.58mm/0.140in
Weight (g/lb)
8.7g/0.019lb
8.5g/0.018lb
8.0g/0.017lb
Special Features
TRIM
Yes
Yes
Yes
S.M.A.R.T.
Yes
Yes
Yes
Halogen Free
Yes
Yes
Yes
RoHS Compliance
Yes
Yes
Yes
System Requirements
System Requirements
M.2 (M key) slot, PCIe® G4 ×4 interface (backwards compatible with PCIe G3 interface)
Windows® 10
Linux
1 Fresh out of box (FOB) performance obtained on newly formatted drive. Performance may vary based on SSD's firmware version, system hardware, and configuration. Performance based on CrystalDiskMark v.6.0.2 ×64 on Windows 10 host with PCIe Gen4 motherboard.