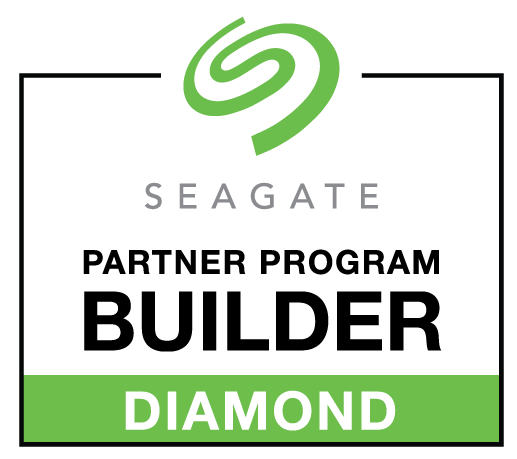 Seagate Backup Plus Slim (New)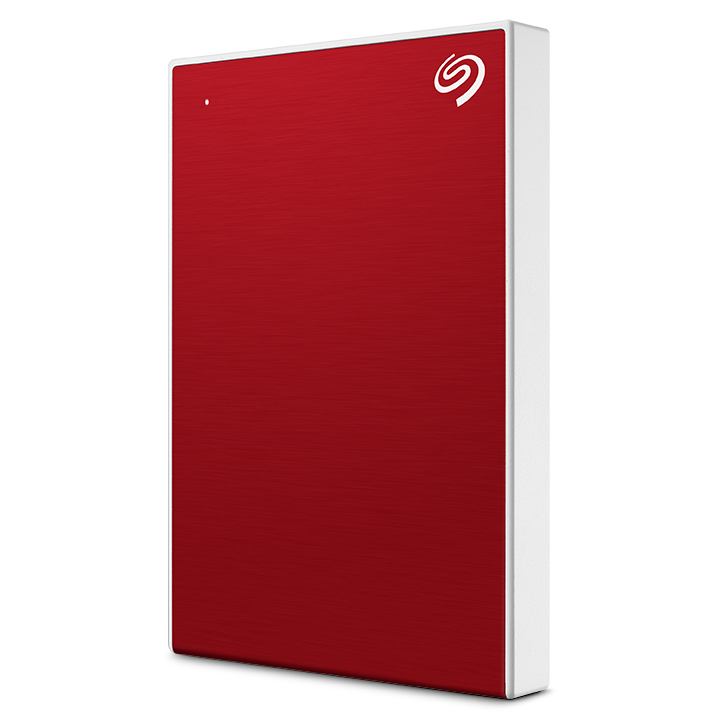 Seagate Products
Seagate Backup Plus Slim Portable Drives (New)
Seagate® Backup Plus Slim - Black - 1 TB
#STHN1000400
Get a Quote!
Seagate® Backup Plus Slim - Blue - 1 TB
#STHN1000402
Get a Quote!
Seagate® Backup Plus Slim - Red - 1 TB
#STHN1000403
Get a Quote!
Seagate® Backup Plus Slim - Gold - 1 TB
#STHN1000404
Get a Quote!
Seagate® Backup Plus Slim - Black - 2 TB
#STHN2000400
Get a Quote!
Seagate® Backup Plus Slim - Blue - 2 TB
#STHN2000402
Get a Quote!
Seagate® Backup Plus Slim - Red - 2 TB
#STHN2000403
Get a Quote!
Seagate® Backup Plus Slim - Gold - 2 TB
#STHN2000404
Get a Quote!
Overview:
A little fits a lot
Small enough for a loaded laptop bag, spacious enough for loads of content — Seagate® Backup Plus Slim portable drive is the perfect marriage of easy portability and truly useful file storage. Easily plug into Windows and Mac® computers via USB 3.0, and enjoy helpful tools like customized backup and folder mirroring.
Welcome to the Backup Plus way of life.
Textured metal finish fits in with modern lifestyle elements
Compatible with USB 3.0 and USB 2.0.
Powered by USB connection—offers customized backup and folder mirroring.
Drop files into the designated folder for automatic file synchronization.
Works with Windows and Mac® without the need to reformat.
1-year Mylio Create plan.1
2-month Adobe Creative Cloud Photography plan.2
What's Included
Seagate® Backup Plus Slim portable drive
18-inch (45.72cm) USB 3.0 cable
Downloadable Toolkit Backup Software
Quick start guide
1-year Mylio Create plan1
2-month membership Adobe Creative Cloud Photography plan2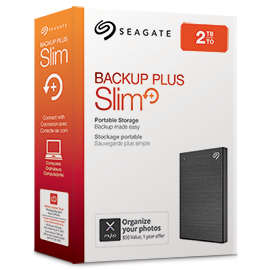 1 See www.mylio.com/terms-of-service/ for applicable terms and privacy policy. Redeemable during product registration. Not available in all countries
2 Internet connection and Adobe ID required. Available only to users 13 and older. See www.adobe.com/legal.html for applicable terms and privacy policy. Redeemable during product registration. Not available in all countries.
Features:
The Good Things Add Up
Think about it. Photos, movies, documents. Phones, tablets, laptops. Your digital world is made of many parts that add up fast. Because we believe that managing all these files, across all these devices, should be easy and not a burden, we designed a family of premium portable hard drives to help you balance things out.
High Capacity. Stellar Style.
Refined and understated. Cozy and textured. Backup Plus comes in an array of styles made to compliment your signature look. And whether you're storing yearly tax documents or ever-growing collections of high-res photos, capacity won't be an issue.
USB-C, USB 3.0 Ready
Selecting a Backup Plus hard drive that matches your preferred interface is easy. Ultra Touch works with USB-C and USB 3.0 computers while Portable and Slim work with USB 3.0. And they all work interchangeably with Windows® and Mac® out of the box (reformatting may be required for use with Time Machine).
Convenient Backup
Maybe you're diligent about backup. Maybe you're a pro at putting it off until tomorrow. Whatever your style, Backup Plus portable drives offer an array of easy-to-use software tools.
Back up on demand with one click.
Schedule automatic hourly, daily, weekly, or monthly backups.
Mirror folders for seamless file management.
Organize Your Memories with Mylio Create
Photos add up and scatter pretty easily, wouldn't you say?
Put the puzzle pieces back together with a one-year complimentary subscription to Mylio Create, an intuitive yet powerful app that helps you organize photos and create a life calendar of your memories, all while having the freedom to protect, edit, share, and sync them across multiple devices. This is your world—manage it beautifully.1
Edit Photos with Adobe Creative Cloud
Easily edit, organize, store, and share your full-resolution photos from anywhere with a two-month complimentary membership to Adobe Creative Cloud Photography Plan.2 Edit photos with the powerful and easy-to-use interface of Lightroom CC and combine images into rich, multilayered artwork with Photoshop CC.
1 Not available in all countries. One-year Mylio Create plan is redeemable during product registration. See www.mylio.com/terms-of-service/ for applicable terms and www.mylio.com/privacy/ for privacy policy. Internet connection required.
2 Two-month membership to Adobe Creative Photography Plan is redeemable during product registration. Internet connection and Adobe ID required. Available only to users 13 and older. Not available in all countries. See www.adobe.com/legal.html for applicable terms and privacy Policy. Must redeem by January 31, 2021.
Specifications:
Retail Packaging
Product Dimensions
Box Dimensions
Master Carton Dimensions
Pallet Dimensions
Length (in/mm)
4.52in/114.8mm
5.748in/146mm
6.89in/175mm
47.992in/1219mm
Width (in/mm)
3.071in/78mm
4.094in/104mm
6.024in/153mm
40in/1016mm
Depth (in/mm)
0.461in/11.7mm
1.476in/37.5mm
4.291in/109mm
44.921in/1141mm
Weight (lb/kg)
0.278lb/0.126kg
0.496lb/0.225kg
2.332lb/1.058kg
679.474lb/308.204kg
Quantities
Boxes per Master Carton
4
Master Cartons per Pallet
288
Pallet Layers
8
System Requirements
System Requirements

Windows® 7 or higher, or Mac OS® X 10.11 or higher operating system1,2
Available SuperSpeed USB 3.0 port (required for USB 3.0 transfer speeds or backwards compatible with USB 2.0 ports at USB 2.0 transfer speeds)
1 Reformatting for Mac may be required.
2 Compatibility may vary depending on user's hardware configuration and operating system.
Choose Your Backup Plus
Backup Plus Ultra Touch
Backup Plus Slim
Backup Plus Portable
Texture
Woven fabric
Polished aluminum
Polished aluminum
Compatibility
USB-C
USB 3.0/2.0
USB 3.0/2.0
USB 3.0/2.0
Capacity
up to 2TB
up to 2TB
up to 5TB
Windows/Mac
Hardware Encryption
—
—
Customizable Backup
Auto Sync
Mylio Create Plan1
Adobe CC Photography Plan2
1 Not available in all countries. One-year Mylio Create plan is redeemable during product registration. See www.mylio.com/terms-of-service/ for applicable terms and www.mylio.com/privacy/ for privacy policy. Internet connection required.
2 Two-month membership to Adobe Creative Photography Plan is redeemable during product registration. Internet connection and Adobe ID required. Available only to users 13 and older. Not available in all countries. See www.adobe.com/legal.html for applicable terms and privacy Policy. Must redeem by January 31, 2021.