Seagate Exos Systems

Cutting edge storage performance and data protection.

Faster, Easier, More Resilient Than Ever.
Cutting edge storage performance and data protection.
Discover a better way to scale your enterprise and safeguard critical data with Seagate Systems. Our innovative and easily integrated hardware and software products create a seamless experience for any company that wants its data to be installed, operated, and protected with ease. Available with maximum capacity, unparalleled performance, self-healing technology, and built to support future drive innovation with state-of-the-art, cost-optimized, environmentally-friendly architecture.
Seagate Exos CORVAULT
Seagate Exos CORVAULT is a petabyte-scale, rack-mounted 4U block storage system that aggregates 106 (20TB) drives totaling 2.1 PB of storage. CORVAULT includes Seagate's innovative self-healing storage technology. Purpose-built for always-on availability for applications that require massive capacity, performance, and resiliency.

106 x 3.5″ SAS HDD self-encrypting drives
Perfect for:
Self-Healing
High-Density Storage
Autonomous Drive Regeneration
Exos X Series — RAID & Data Protection
Seagate Exos X
Seagate Exos X is an advanced storage array that is petabytescale, rack-mounted block storage with builtin self-healing technology, advanced data protection, and software value that aggregates drives in a single enclosure and up to 336 drives across multiple enclosures. Value-rich 2U and 5U solutions for applications that require capacity, versatility performance, and low latency.
Perfect for:
Capacity data systems
Data analytics tools
Data center expansion
Perfect for:
Data analytics solutions
Data streaming
Actionable surveillance
Perfect for:
Data archiving
High-density & high-throughput
Capacity planning

Exos E Series — JBOD Building Blocks
Seagate Exos E
Seagate Exos E rack mount storage expansion enclosures seamlessly connect a 2U form factor with either 12 or 24 drives, a 4U form factor with 106 drives, or a 5U form factor with 84 drives with scalable capacity up to 336 drives.
Exos AP Series — Compute & Storage
Seagate Exos AP
Seagate Exos AP delivers high-performance computing and cutting-edge storage in a single system, expandable with multiple enclosures up to 336 drives. Supports industry-standard management tools and computing structures.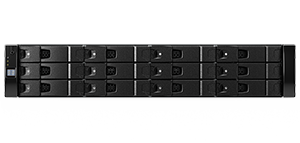 12 × 3.5-in LFF or 2.5-in SFF drives (in 3.5-in conversion carrier)
Perfect for:
Small to mid-sized businesses
Scalable capacity
Immediate data access


(24) 3.5" or 2.5" drive slots, 2U Rackmount, form factor
Perfect for:
Mid-sized businesses
Scalable capacity
Optimized Deployments
Perfect for:
Private clouds
Fast input/output data speeds
Innovation-ready scalability
Exos Corvault
Exos X
Exos AP
Exos E
Purpose
Mass Storage Array
Advanced Storage Array
Host Compute With Mass Storage
Expansion Storage JBOD
Resiliency
ADAPT/ADR
ADAPT/ADR
n/a
Follows Master
Form Factor
4U, 106 Drives
2U, 12 Drives
2U, 24 Drives
5U, 84 Drives
2U, 12 Drives
2U, 24 Drives
5U, 84 Drives
2U, 12 Drives
2U, 24 Drives
4U, 106 Drives 5U, 84 Drives
Capacity
2.12 PB
Up to 6.72 PB
Up to 6.72 PB
Up to 1.68 PB
Per Enclosure
Drives
Includes 106
20TB LFF HDD
LFF/SFF
HDD/SSD
LFF/SFF
HDD/SSD
LFF/SFF
HDD/SSD
Storage Interface
12G SAS
Up to 4 chassis
Up to 10 chassis
Up to 10 chassis
Interfaces
SAS
32/16Gb FC
25/10GbE iSCSI
10GBASE-T Auto to 1Gb
12Gb SAS
12G SAS
12G SAS
Array Data Protection
Seagate, ADAPT,
Raid 1, 5, 6,10
Seagate ADAPT,
RAID 0, 1, 5, 6, 10
n/a
Follows Master
Software Values
Linear Storage Target
Virtual pools,
Thin provisioning,
SSD read cache,
Encryption,
Auto-Tiering,
Snapshots,
Asynchronous Replication
n/a
Follows Master
Controllers and Modules
Dual Controllers
Dual Modules
Dual Controllers
Dual Modules
Dual Controllers
Dual Modules
Dual Controllers
Dual Modules
Compliance
Global
Global
Global
Global
Warranty
3-Year
3-Year
3-Year
3-Year